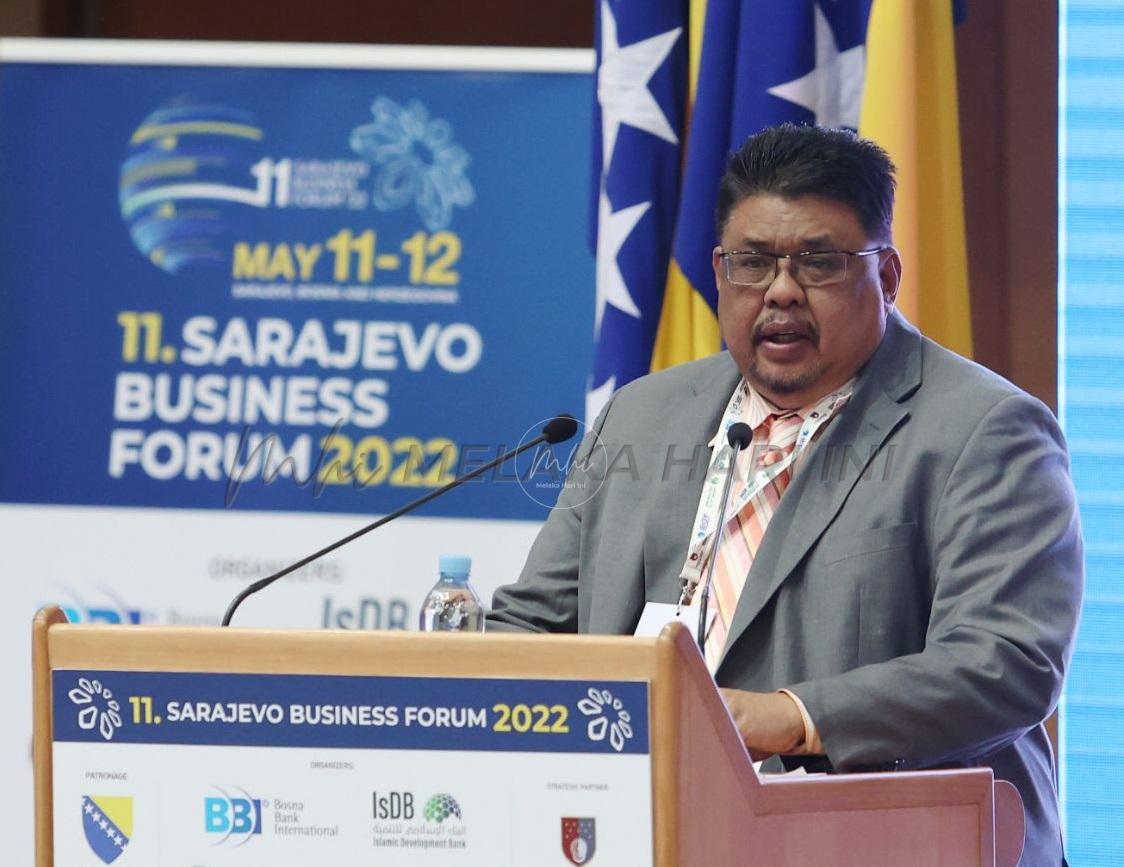 Keynote speech by Datuk Seri Ab Rauf Yusoh – Sarajevo Business Forum 2022
FIRST of all, I would like to thank the organizer of this event, the Bosna Bank International with the cooperation of its shareholders and other strategic international partners, for hosting this 11th International Business and Investment Conference – Sarajevo Business Forum 2022.
2. It is indeed a pleasure to be here, standing infront of all the delegates and strategic partners. I sincerely wish Bosnia and Herzegovina a very successful future, safe and fast economic recovery from the Covid-19 pandemic.
3. This conference has positioned itself as one of the most important business and investment events for Southeast Europe. It allows us to empower the existing relations, and create new business networking and investment opportunities globally.
4. With the main subject of 'nearshoring', investors and business players are strongly invited to expand and explore the opportunities in this region, which areattractive and provide very potential markets.
5. In Malaysia, we are offering convincing economic situation with the access to the educated workforce and financing access, and geographically stable.
6. Malaysia is located in strategic location, having the Straits of Malacca as the world's busiest waterway connecting the Indian Ocean and the Pacific Ocean. This route serves nearly 80,000 ships throughout the year, and Malaysia together with its neighbouring countries has mutual responsibility to enhance and strengthen the sustainability of the Straits, and continues to be the leading maritime trade route for the ships around the world.
MELAKA WATERFRONT ECONOMIC ZONE(M-WEZ)
7. As for Melaka, we are playing our role in sustaining the Straits of Malacca, with the recent announcement of coastal development project of Melaka Waterfront Economic Zone (M-WEZ). M-WEZ is an integrated development concept in the coastal sea reclamation area of the State of Melaka, and it will serve the purpose as one of the main economy enablers.
8. M-WEZ is a tourism-based development of Melaka, integrating various economic development components such as international tourism, commercial lifestyle-based, adapting Smart City and Fourth Industrial Revolution concept, Marine Logistics Hub, and provide cultural centre of modern lifestyle. With this development initiative, it brings hope, prosperity, jobs, and well-being to local economy as well as the Straits users. M-WEZ will improve Melaka as a tourism state and as a business centre for 24/7.
9. I would like to take this opportunity to invite any interested investors to look into this potential project, and we will assist any inquiries and provide further assistance.
TOURISM SECTOR
10. Global tourism has experienced continued intense growth and diversification to become one of the fastest growing economic sectors in the world. However, over the past recent years, this sector has been highly impacted due to Covid-19 pandemic in most countries.
11. The impact of travel ban among countries has reduce the tourism activities. This conference is seen as the platform for the industry's stakeholders to explore business chances by meeting other delegates that representing their tourism industry from various part of the world, which will help to boost up the tourism sector.
12. Malaysia itself, and Melaka as one of its historical states has many good to offers in terms of tourism. The unique social foundation of Malaysia with multiracial population, languages, cultures has made the country interesting to visit. Tourism may benefit the economic growth, enhance quality of life, environmental and cultural protection.
13. Once again, I cordially inviting those interested to explore Malaysia and Melaka business tourism's opportunities and become one of our strategic partners and investors.
MANUFACTURING INDUSTRY IN MALAYSIA & MELAKA
14. According to the statistic data provided by Malaysian Investment Development Authority (MIDA), there was a significant hike in the foreign investment for the recent year as compared to the previous records. Despite of the unstable economic environment and global challenges, Malaysia is able to stay attractive to its investment stakeholder.
15. In the year 2021, Malaysia has received RM208.6 billion of foreign investment as compared to RM64.2 billion in the previous year. The spike is mainly contributed from the manufacturing sector which takes about 85% out of the total investment figure.
16. This investment confidence is due to the country's sustainable and solid economic foundation and comprehensive business ready environment and its supporting policies.
17. The availability of dynamic skilled workforce has made Malaysia an attractive cost-competitive investment location in the region, and becoming a preferred centre for shared services and leading technology industries.
18. As for Melaka, the state is well equipped with excellent infrastructure and having friendly investment policies. The state offers opportunities in various manufacturing sectors such as electrical and electronic, automotive, oil and gas, aerospace, food products and many others to be discovered.
19. The state is continuously formulating strategies to revitalise the nation's economy, and hoping to attract more foreign investors over the coming years.
CONCLUDING REMARKS
20. I hope that all the distinguish speakers and participants in this conference will having productive discussion and may us build up stronger relations and business networks from this conference.
21. And once again, I do invite the all the audience of the conference to come and experience the beautiful nations of Malaysia.
Langgani saluran Telegram kami untuk dapatkan berita-berita yang terkini.