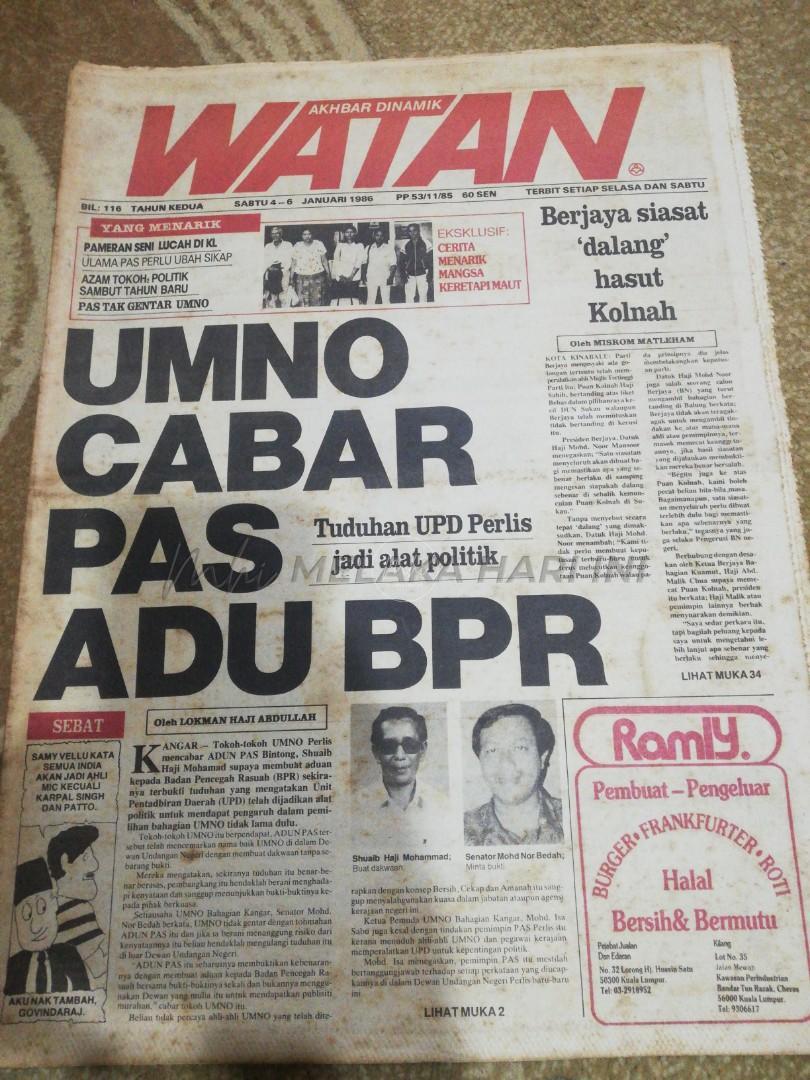 Watan (1976-1997): An Independent Voice of the Times
Watan captured the mood on campus in the late 1970s through the early 80's. This was in Shah Alam in my undergraduate years. It was the staple read. It resonated the sentiments of the student movement and protest earlier, national crises and international developments, particularly on the Iranian revolution of 1979 and notions of Islam as international political movement.
Watan was a fresh voice, a different player in the nation's journalistic scene. It was one of the earliest political tabloids to have appeared in post-1970 Malaysia where the nation was rebuilding itself, and redefining national culture and society. In the days that it appeared, students of Institut Teknologi Mara then (Now Universiti Teknologi MARA) would head toward Section Two in Shah Alam to experience a piece of critical discourses. It was our intellectual diet, apart from the lectures on campus. Watan was triggered by several events. It was the larger global force of Islam and social change, to national events like the conflict between former Selangor Menter Besar Datuk Harun Idris with UMNO, and the death of Tun Razak.
Watan, published by Syarikat Watan at Brickfields, was owned by (Tan Sri) Mohd. Khir Johari, a former Cabinet member under Tunku Abdul Rahman, and former Secretary-General of UMNO. Khir was chairman until 1984. The daily was taken over by Pustaka Antara a year later. To the readers at Shah Alam, Subky Latif was the daily's opinion maker. He was known as a journalist and political writer. He was later to be one of the founders of the party organ of PAS, Harakah in 1987, together with the party's vice president then Haji Nakhaei Ahmad. Subky was appointed Watan's editor, while former editor-in-chief of Utusan Melayu, Melan Abdulah, became its editorial advisor. Subky later left to set up his own newspaper, Suara Merdeka. But Subky returned after the publication permit of Suara Merdeka was not renewed. Subky finally left Watan after he lost in the Pelabuhan Kelang by-election as a PAS candidate.
Watan was printed with 24 pages. It was a tabloid measuring 11.2 x 15 inches. It was initially bilingual. Later its English-language segment was discontinued. That was from August 1978. It was sold for 25 sen before increasing to 40 sen in 1981.
From being a weekly, Watan turned daily, but reverted to a weekly in 1979. According to Hamedi Mohd. Adenan (2015) in 100 Akhbar Melayu, beginning January 1981, its frequency was further changed to two editions a week, every Tuesday and Friday. On 15 November 1983, its editor, Abdul Halim was detained under the Internal Security Act. Its owner, Datuk Abdul Aziz himself, owner of Pustaka Antara, was remanded for 30 days for investigations. Watan was suspended.
It was said that the reason was because the newspaper had carried a story from the embassy of the Soviet Union saying that the Communist state would establish its government according to Islam. To the Malaysian government, the story was communist propaganda which had infiltrated Watan. After his release, Datuk Abdul Aziz expressed that he did not wan to continue publishing the newspaper. Khir as owner of the permit therefore had to negotiate to enable Watan to be published by Karangkraf.
Hence, Watan resumed publication on 27 November 1984. Its slogan "Untuk Nusa dan Bangsa" (For Race and Motherland) was replaced by "Watan Akhbar Dinamik" (Watan a Dynamic Newspaper). Under the Karangkraf Group, Siti Bidayah Ahmad became its Chief Editor. She was later replaced by owner Hussamuddin Haji Yaacob in 1986. Watan continued it crusade. It was the face of a brave and bold journalism in modern Malaysia. It carried debates, commentaries and criticisms on national politics and race relation, notably between the Malays and Chinese. It was again banned on 27 October 1987, together with English and Chinese dailies the Star and Sin Chew Jit Poh respectively.
It resumed publication after five months, with its frequency changed to three times a week, appearing on Tuesday, Thursday and Saturday. The late Abdul Jalil Ali, who was to become Sinar Harian's chief editor and later its editorial advisor, joined the newspaper in 1990 as editor. Watan's slogan was again changed to "Akhbar Dinamik: Mempertingkatkan Pemikiran Rakyat" (A Dynamic Newspaper: Elevating the Mind of the Rakyat). Sold for 80 sen, it continued to concentrate on the nation's political scene, especially linked to UMNO's leadership crisis.
At the end of 1992, Watan changed hands to Gagasan Baiduri owned by Tengku Adnan Tengku Mansor. It resumed publication on 1 January 1993 as a daily with another new slogan "Akhbar Alternatif Anda dan Keluarga" (An Altenative Newspaper for You and Family). The managing director was Tengku Adnan's brother Dr. Tengku Rethwan. Its chief editor was Zahari Affandi, assisted by editor Zainal Epi, who was from the Star. Mohd. Hamedi tells us that Zainal held the post for a year. Hambali Abdul Latiff then became Watan's editor in 1996 until it finally ceased publication on 13 December 1997.
When it was launched, Watan was meant to be an independent voice in Malaysian journalism, an alternative to the mainstream press of the day.
Langgani saluran Telegram kami untuk dapatkan berita-berita yang terkini.